Welcome to Anime Romance
By Nnesaga
May 13th, 2018
Anyone that knows me know I am a sucker for any romance, slice of life and drama anime. Romance anime is one of my most favourite genres. Some might call it a drug, some might call it an obsession. I call it a way of life. I watch way too much romantic anime to name, but heres my top 10 which I'm sure will have you feeling all loved up by the time you've finished watching all of them.
(This is no particular order:)
1. Fushigi Yuugi (Mysterious Play) – (1995 – 52 Episodes)
I can not believe how underrated this anime is. It literally has everything you want and more. Forbidden romance, love between two worlds, drama, action and a whole lot of an emotional rollercoasters you need to get ready for. Follow Miaka on her journey where she gets accidentally(well you know anime by now, its always fate for them) sucked into ancient China and immediately becomes the "Priestess of Suzaku" and must find her gang of celestial warriors to fight the greater good. You guys will love this anime because you grow to become emotionally attached to the characters, you will be fighting back tears and all sorts. I tried to hold back tears but I couldn't any longer. The last episode took me out and my face became a waterfall. This anime is so beautiful, I would highly recommend it to those who love romance but want a bit of everything. Action, adventure, drama, Comedy, Magic etc. You can read the full synopsis here
2. Hana Yori Dango (Boys over Flowers) – (1996 – 51 Episodes)
That classic story of the young, tough girl from a poor background going to a wealthy school filled with all kinds of stuck up people and bullies. However, that doesn't stop the feisty Makino from tackling her everyday issues at school. Funnily enough, one of the many boys who do not leave her alone actually ends up falling for her. A rich one at that. She does not give up without a fight though. I recommend this anime because I believe it would be very relatable to those who always have that one guy they can't stand falling in love with them. Check out the full info here.
3. Marmalade Boy – (1994 – 76 Episodes)
One thing I loved about this anime is the hidden musical gems. Listen, 90's Japanese music is so bomb in this show. Marmalade boy is such a cute anime all in all. But the plot twist half way through this show is an absolute shocker especially towards the end which is why I would most definitely recommend this show. You end up growing to become so protective of Miki and Yuu's relationship. Check out more info here.
4.  School Days – (2007 – 12 episodes)
This. Anime. Is. So. Fucked. I'll let you be the judge after you've watched this crazy show. Synopsis here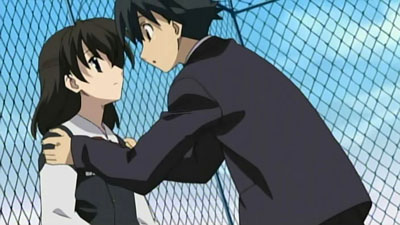 5. Nana (2006 – 47 Episodes)
(Full Synopsis here.) If you don't know about NANA, now you know. This has to be on your bucket list. A great shoujo, romantic, slice of life and drama filled anime. I would say this another relatable anime for young women who are trying to balance out their love life, their careers and everything else in between. Follow the journey of two young women, whoso happened to both be called "NANA" cross paths and experience life from two different perspectives. I can't tell you enough how good this show is. Its very mature too. So if you need something grown to watch, this is just for you