Don't Know Where To Start? Look No Further:
The Beginners Guide To Anime:
So, you've finally discovered anime? Well done getting here! Firstly, can I just say welcome to the family! It might have taken you a while to find this treasure but don't worry about that. All that matters is that you're here!
As someone who has watched a lot anime, I always get asked what my favourite anime is, and I usually reply with a huge grin and scream: ONE PIECE!
But would I recommend it as a first anime?
Instead of answering that as I feel it's a political question to me, I thought why not answer with a list of what I would recommend to beginners. Everyone who watches anime knows there's different genres even with the anime world: Shounen, Shoujo, Senin, Sports, Romance, Comedy etc.
With that in mind, here's a list of the top five animes I would recommend for newcomers:
Shingeki No Kyojin (Attack On Titan): 2013 (25 episodes)
Genre: Adventure fiction, Dark fantasy, Post-Apocalyptic Fiction, Action
Relatively new itself, this anime took the world by the storm. For a first anime, the animation for this is absolutely incredible! As a female myself, its brings me nothing but joy to find there are actually strong female characters in this anime. So girls if you are someone who wants to find a kickass strong female this anime is for you! Without spoiling anything this anime will keep you second guessing, and make you fall for characters you really shouldn't. This is something weird to notice but the bloody scenes in this anime is realistic so if you are someone that is scared of blood this anime isn't for you! The first season has 25 episodes and season 2 and 3 has 12 episodes each.
Synopsis:
After witnessing a horrific personal loss at the hands of the invading creatures, Eren Yeager dedicates his life to their eradication by enlisting into the Survey Corps, an elite military unit that combats the merciless humanoids outside the protection of the walls.
Based on Hajime Isayama's award-winning manga, Shingeki no Kyojin follows Eren, along with his adopted sister Mikasa Ackerman and his childhood friend Armin Arlert, as they join the brutal war against the titans and race to discover a way of defeating them before the last walls are breached. Season 3 is currently out but on break at the moment till 2019. The anticpation for it is brewing.
Death Note: (2006) 37 episodes
Genre: Horror, Fantasy, Drama, Mystery, Crime Fiction, Psychological
Where to start with this?! This anime holds a special place in my heart because it's actually the third anime that I've ever seen. It was different to the first two I watched because this was actually about an anti-hero! What do I mean by this? Have you ever wondered what you could you do to change the human world for the better? Yagami Light has and he came up with the answer to wipe out all the scums off the face of the earth to ensure no one else got hurt.
However, this anime isn't just about killing all evil, but to do what is necessary to gain that goal even if sometimes innocent people get hurt. Give this anime and try and let me know if you are rooting for Light to win or not!
Yagami Light is a 17-year-old genius from Japan who is tired of his life, school, and the state of the world as he knows it. One day, on the way home from class, Light stumbles upon a dark notebook with "Death Note" written on the front.
 Intrigued by its appearance, Light reads the first few sentences, only to find out that it states that anyone whose name is written inside will die. Discarding it as a joke, Light continues his daily activities. Soon after though, his human curiosity takes the better of him and prompts Light to try the notebook, discovering the truth behind first sentence.
 Now, with power in his hands, Yagami Light is on a quest to change the world and become God of the New World. His path to holy status won't be easy however, as another genius, known as L, is working against Light's beliefs and Light himself. Who will win this power of Gods between humans? Death Note is currently available on Netflix and its a very easy binge to consume.
Ace of Diamond : (2013) 75 episodes
Genre: Sports, School, Comedy, Shounen
I know what you're thinking!
Baseball?
How can anime about baseball be interesting?
But TRUST ME when I say this will keep you riveted to your seat! The matches played out are so intense and realistic it actually makes you want to go outside and play it yourself! Like all sports, this about a team who wants to be acknowledge and be the best of the best. Sadly, it's not always that simple! One of the many things I love about this anime is the character development for everyone involved. Don't be embarrassed if you cry because I sure as hell shed many tears. And not just for the main teams!  Give it a go and just a tip make sure you have plenty of water on standby! Because you are definitely going to be screaming at the screen when it comes to most matches.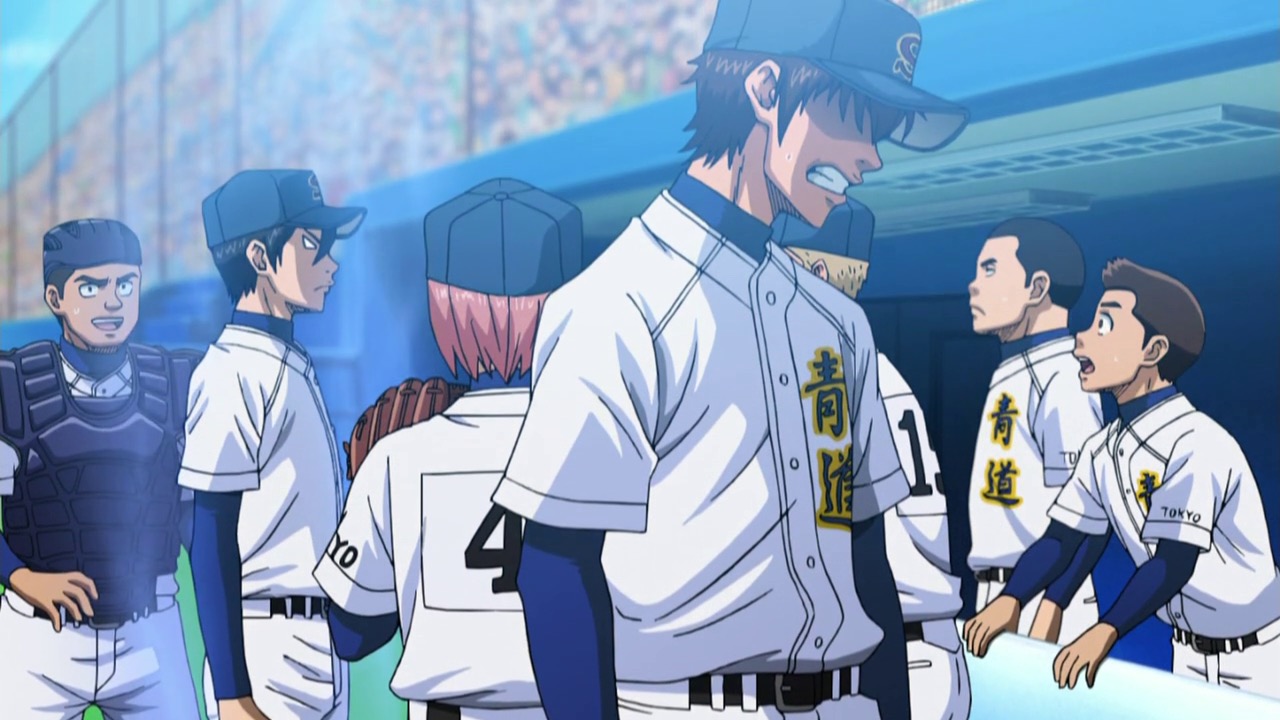 Synopsis
Eijun Sawamura is a gifted baseball player who has been accepted in one of Tokyo's prestige's school. His goal is one, to become the ace of Seidou High School.
However, now surrounded by a large number of skilled players, Eijun struggles to find his place on the team. With the addition of these talented new players to an already powerful lineup, the Seidou baseball team aims to become the best in Japan, facing off against a number of formidable foes that stand in their way.
Itazaru Na Kiss: (2008) 25 Episodes
Genre: Romance, Comedy, School, Shoujo, Slice Of Life
CALLING ALL ROMANCE FANS!
Synopsis
Though an old anime, this is a classic! It will actually keep you awake at night laughing with tears or crying with frustration because the characters won't do what you want them to do! I think the reason I chose this one out of all the other romance amine to get into first is because we see Kokoro, the main character grow. We see her struggling through high school and entering the big bad world of university. Some of us can relate that to hey! It actually makes you reminisce about your own school days! So I suggest you curl up in your bed have lots of tissue ready and munch on that ice cream!
Daily Live Of High School Boys: (2012) 12 Episodes
Genre: Comedy, School, Shounen, Slice Of Life
Honestly all I can say about this anime is if you want to laugh until your kidneys are about burst then check this out! I'd recommend not skipping the endings either, you will be in for a funny surprise!
Synopsis
Join Tadakuni, Hidenori and Yoshitake as they undergo the trials and tribulations of life in high school. Each episode presents the boys and their classmates in unique situations that you may or may not have faced in high school yourself! You'll laugh! You'll cry! (But hopefully laugh more.) You'll be astounded by the zany antics of the Sanada High School community!
That's it folks! Give them a try and let me know your thoughts! Once you enter the world of anime there is no going back so be prepared!