Nostalgia is one hell of a Drug – Lion King Trailer Revealed for June 19, 2019 Release
By Nnesaga
November 23rd, 2018
Disney's The Lion King just released their first trailer and my oh, my, the nostalgia tears are real right now. They managed to capture the very first moments of the opening scene from the original 1994 movie. Disney have had a great formula when it comes to live adaptation movies over the last couple of years. I am impressed. I don't know if I'm prepared to see Mufasa perish on IMAX though, I should really have tissues on standby.
But you mean to tell me, that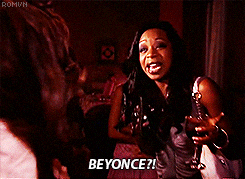 will also be featuring in the movie? Oh Disney got MONEY.
The cast line up is incredible. It was announced earlier this year who will be playing who.Here is the cast list:
Donald Glover – Simba
Beyonce – Nala
Seth Rogen – Pumbaa
Billy Eichner – Timon
Chiwetel Ejiofor – Scar
James Earl Jones – Mufasa
Afre Woodard – Sararbi
Eric Andre – Azizi
Keegan-Michael Key – Kamari
Florence Kasumba – Shenzi
John Kani – Rafiki
John Oliver – Zazu
JD McCracy – Young Simba
Shahadi Wright Joseph – Young Lala
The Lion King will be in cinemas June 19th, 2019. Take a look at their new trailer here: