WHERE TO BEGIN? 
2018 has been a great year for anime, but oh boy is 2019 going to be EVEN BETTER! Whose excited? Because I sure am!
Ladies and Gentleman have I got a recommendation for you! The Promised Neverland otherwise known as Yakusoku No Neverland is a manga that has recently taken the world by the storm! Kaiu Shiriai the writer of this master piece first released this through Weekly Shonen Jump on the 1st of August 2016.
As they do, when a manga is good it deserves an anime and I can definitely say The Promised Neverland deserves it and more! I would like to thank the studio CloverWorks for this amazing miracle and what a time to drop it in new year! What a beautiful way to start the year!
Promised Neverland (2019): 12 Episodes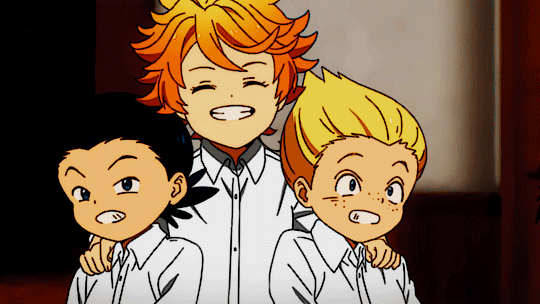 Genre: Sci-Fi, Mystery, Horror, Shounen
Synopsis:
At Grace Field House, life couldn't be better for the orphans! Though they have no parents, together with the other kids and a kind "Mama" who cares for them, they form one big, happy family. No child is ever overlooked, especially since they are all adopted by the age of 12. Their daily lives involve rigorous tests, but afterwards, they are allowed to play outside.
There is only one rule they must obey: do not leave the orphanage. But one day, two top-scoring orphans, Emma and Norman, venture past the gate and unearth the harrowing secret behind their entire existence. Utilizing their quick-wittedness, the children must work together to somehow change their predetermined fate.
My Thoughts: 
The Promised Neverland starts off exquisitely and the animation of it is breath-taking and does it justice! Firstly before I get onto what I LOVED about these recent two episodes that have dropped I DEMAND you not skip the opening. YES THAT IS AN ORDER!  The opening is so catchy I will probably be singing this in my sleep for the next couple weeks coming!
EPISODE 1:
Now, the anime starts of with main characters Emma, Norma and Ray discussing what is beyond the borders of their home. Eleven years old and not knowing what is beyond the gates they are forbidden to cross. There is something really dark about this conversation as its not really something you would expect 11 year olds to be talking about! But Sweet Emma all she wants to do is ride a giraffe! Bless her soul!
Watching this scene as a beginner to the series, you would expect the children to be starved and abused. But that is so far from the truth! If anything they are so loved you can practically feel the love coming out the screen! The episode kicks starts with Emma and the rest of the orphanage home waking up and playing around with laughter.
They are looked after Isabella, who they call Mama. The orphanage home looks after 38 children and the rules are simple: Make sure you complete your tests when asked off you and do not cross the gates beyond the forest.
*Just look at all those smiles!* 
The episode rolls onto little Conny being introduced and its her big day to finally be fostered! Thats right, every two months a child is lucky enough to finally leave the house and be fostered! Every child's dream right? WRONG! This anime turns so dark so quickly I suggest you are prepare yourself for the turn! Oh wait you can't unless you've watched it!
*Just look at how cute she was* (spoiler alert!)
Conny is chosen to leave the house to be fostered and she cries knowing she's going to leave her loved ones behind. Mama assures she will be fine and after saying their goodbyes they leave. Emma noticing Conny leaves her treasured bunny tells Norman and together they set off to run after Mama and Conny to return the bunny.
Instead of finding a happy go lucky very much alive Conny, they find a corpse and not just any corpse, a very dead Conny!   This scene gave me chills and you can truly see the terror in Emma's eyes. This anime really kicks off when you carry on watching because you discover that not only is she dead but the home they all grew up with isn't just any home. But a harvest home! To top it all off the  person behind it is none other than: Mama!
And she is NOT alone!
HOLY CRAP was my thought when I first this how did such a sweet and bubbly anime turn so freaking dark!! Emma and Norman run home and decide right there and then they have to escape. However, sweet Emma doesn't want to just escape by herself but she wants to escape with everyone!
After finishing hyperventilating I pressed the next episode because how am I going to stop at just that?
EPISODE 2
Episode two has a slow start as it starts off with Emma and Norman discussing how they are going to escape. To make this all interesting Mama knows someone was at the gates because they dropped bunny. This episode was filled with catching my breath and a whole lot of psychological games being played.
This scene had a lot of controversial debate going on in social media, specially twitter as a lot people didn't think it portrayed what the manga wanted. Me personally? I LOVED IT. When Mama catches Emma crying and asks her why and that DUN noise to add it for side effect? It made me want to break down and tell her everything. And I'm not even Emma!
This scene really showed me what Emma was capable off because she shoved her emotions for the sake of everyone and hugged Mama and said she just missed Conny and even threw in her face 'How do you think she's doing?' KNOWING that Conny is dead.
But Mama took the game and proved later in the episode she really was an enemy! This episode showed that there's TRACKING devices on everyone. Is this really the end?
Ray cottons onto the fact that Norman and Emma are hiding something and manages to get the truth out of them. Though I feel like he believed them to easily especially in the earlier scenes where he is seen listening into conversations between the two. The episode ends with Norman convincing Ray that is there nothing to be done as he wanted to leave some children behind for survival. But what Emma wants? Emma gets!
Goddam these two episode have made me rethink about trusting anyone anymore! I love the relationship between Emma, Ray and Norma. They are the oldest in the group as well the smartest and the one all the children look up to! How would they take this? Would they believe them? So many questions!!
If you haven't already done so I suggest you CHECK THIS OUT ALREADY!